The railroad is the ultimate historical symbol of progress, of modernizing new frontiers.
Based in Melbourne, Australia, Rail Technology International is a company at the forefront of modernizing the rail industry itself – setting the standard for rail condition monitoring across the world for the last 34 years.  
RTI is a company that prides itself on continuous investment and improvement of technology, as technology plays a vital role in the performance of their testing process and helping clients detect and fix railroad problems fast.  
As RTI says on their website, "We are drivers of technology development within our industry and are invested in producing world-leading technologies".
To that end RTI has a largely proprietary product line, including ultrasonic, magnetic and laser light reflections map or "a high resolution digital signature of the entire rail" – a product that is portable enough to fit comfortably within a Toyota Land Cruiser, for example.
And RTI provides railroad inspection as a service, driving this Land Cruiser along the rails and creating a real time ultrasonic, magnetic and laser light reflections map or "a high resolution digital signature of the entire rail."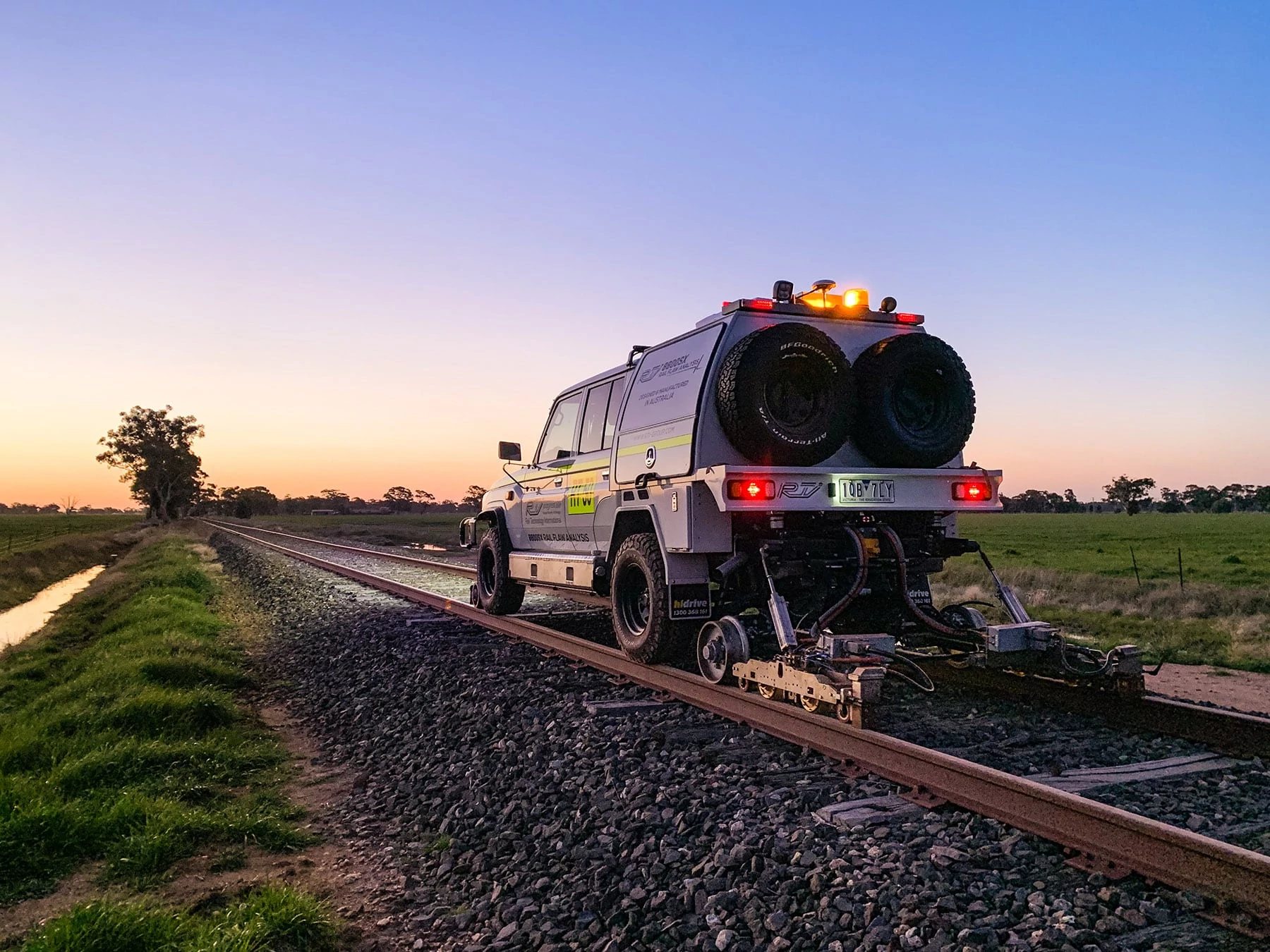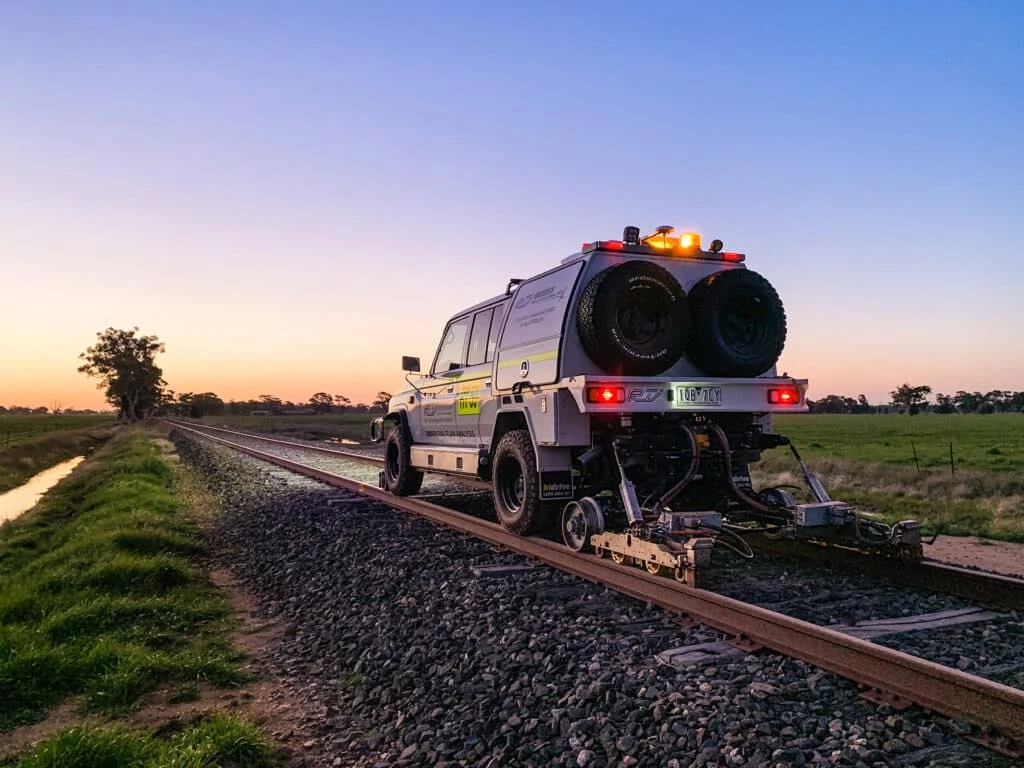 RTI, in other words, is a hightech company delivering mission critical surfaces to the railroad industry.  And RTI chose QBEE to provide a critical component to what is otherwise a largely proprietary tech stack.  
We spoke with our customer, Vlad Apostolov, Software Engineer for RTI, to better understand why he chose QBEE and how he views the value we provide.  Vlad is an electronics  engineer and software developer, originally from Bulgaria, who moved to Australia nearly 30 years ago with his family (now in his early 60s and a proud grandfather of 3 he tells us soon into the call).  He has worked for several multinational companies previous to RTI, including HP and GE.  
Vlad set out a few years ago to build the RTI Smart Hub, which allows the RTI team to access their vehicles in the field in realtime.  RTI Smart Hub software is a "bundle of web applications" written by Vlad himself.
"Thanks to qbee.io we are able to monitor critical system parameters and provide maintenance in real time (in background) without stopping and affecting the railway testing operations."
What Vlad appreciated was the ability to use QBEE to simply deploy and update his own code as well as open source libraries, because "RTI Smart Hub is a hybrid application (an application written using open web technologies), whereby common source code is used to build native applications running on any platform or device".
For example, the operators run Smart Hub on a phone and use it outside the vehicle to check the test carriage signals and operations.
During testing, Smart Hub runs on a dedicated iPad tablet and also on a Windows PC simultaneously with the other RTI applications in the vehicle. At the same time, Smart Hub runs remotely (in the RTI head office) in a web browser as a PWA (Progressive Web Application) using the QBEE service.
Vlad goes further to explain just how he values the impact of the QBEE integration, stating that, prior to QBEE, "we were only able to monitor (think Teamviewer) but could take no action." Further:  "now, with QBEE we are able not only to monitor but to work in the background and adjust parameters without disturbing the operator, the driver of the inspection vehicle."
"We have very limited windows of time to perform these inspections," Vlad explains.  "QBEE has been a gamechanger for us" says Vlad, smiling over Google Hangouts, clearly happy.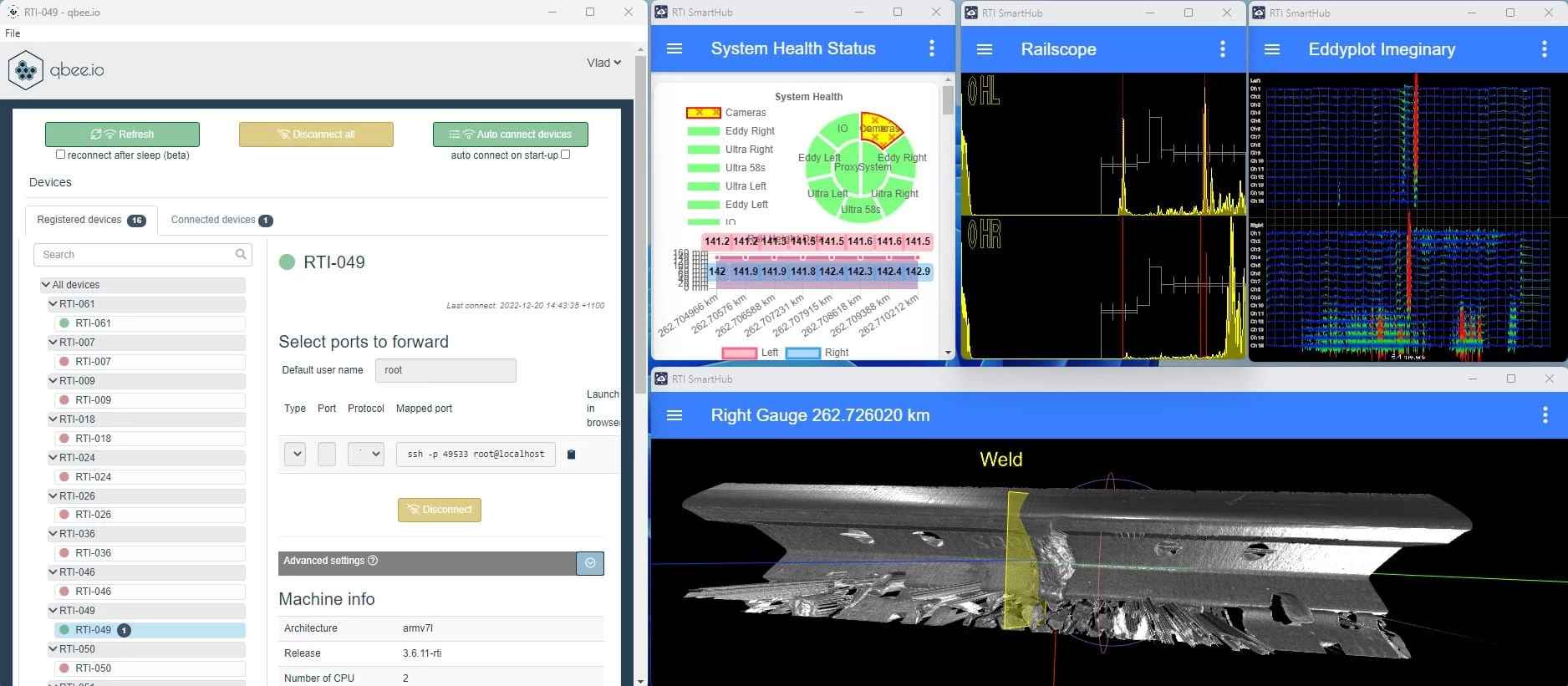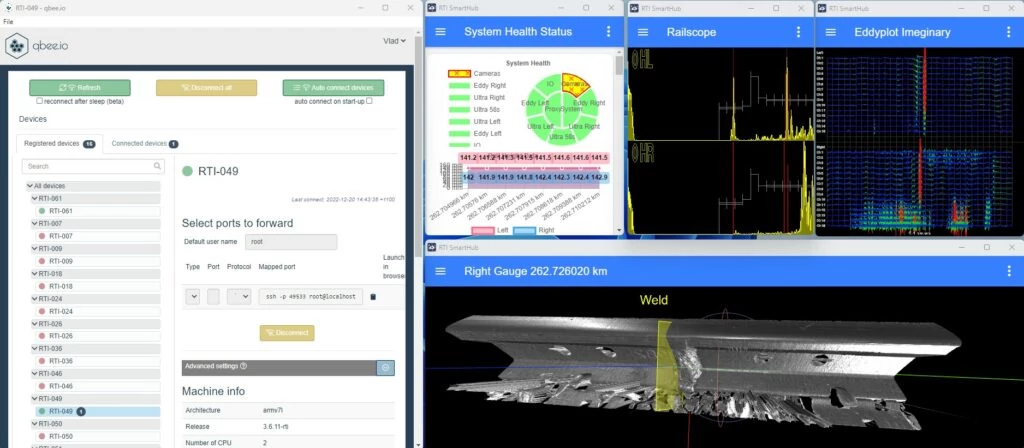 How was the integration process and service? we asked, curious.
"I actually just found you using Google and was immediately impressed with Carsten and the team."  Vlad used the words "no brainer" to describe the ease of installation and integration and said the support was immediate and responsive all along the way.  "It took very little time to get up and running in fact."
Could you not have just built a QBEE like system over time? we asked, in conclusion.
"Of course, like any software engineer, I like to think I can build just about anything with time and unlimited resources."  Vlad laughs. But in choosing QBEE, Vlad is able to focus on his "domain" as he puts it and "create new core software" for RTI.  
Carsten Lehbrink, Cofounder and CEO, adds, "Enabling people to fully focus on solving these difficult IoT problems that help make our society and infrastructure more secure and reliable is one of the reasons we started QBEE. We want to enable RTI and Vlad to build the world's most advanced railroad inspection system instead of using their engineering resources on developing and maintaining the "plumbing" below."